Special Tours

- amusement and excitement
---
Besides Angkor temple tours and Tonle Sap boat trips in Siem Reap's vicinity and shopping and nightlife in the city, Siem Reap offers many leisure and adventure opportunities for guests of Cambodia's most attractive tourist destination.
Motocrossing
There are restrictions for tourists to travel by motorbike in Cambodia, but we can offer you to be the passenger of an experienced motorbike driver in the off-road area of Phnom Kulen National Park. You will be able to visit some of the hidden ancient monuments in that area such as a group of rock-cut animals, including a life-size statue of an elephant. Book
Quad Bike Tours
There are one-, two- and three- hour quad bike tours on offer as well as half-day- and full-day and even 2-days quad bike itineraries. Besides fun, they are a perfect way of exploring the rural surrounding of Siem Reap. You can visit schools and orphanages and traditional stilt houses as well as active Buddhist monasteries. Book
Eco-Adventure Park Angkor
"Flight of the Gibbon" is the name of famous jungle adventure parks in Thailand, often voted best travel experience in Thailand. There is one such zipline eco-adventure course outside Thailand, recently opened in the Angkor jungle, not far from Ta Nei temple, with 21 treetop platforms and sky bridges and 10 ziplines, including the longest single one in Cambodia. You need an Angkor ticket to take part. Pick-up-service from your hotel is included in the adventure programme. Book

Angkor Wat Balloon Ride


Close to the Angkor Wat there is the opportunity to take part in a balloon ride. The best time for it is the afternoon, then you can enjoy the perfect view, overlooking the whole complex of the vast Angkor Wat. The balloon is sometimes not operated, it depends on weather conditions and demand.Book

Helicopter Scenic Flights
The most amazing views of the Angkor temples are from the air. Special scenic flights are arranged for tourists, the shortest flight is 15 minutes, it will show you Angkor Wat and some more temples in its vicinity. Longer helicopter flights can even show you Banteay Srei, Koh Ker and Preah Vihear spectacularly located on Cambodia's highest cliff at the Thai border. Of course, such helicopter expeditions are expensive.Book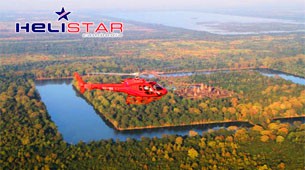 Dance shows
We can arrange an unforgettable evening in the "Smile of Angkor" show, Cambodia's greatest daily dance performance, dinner is included. In case you prefer a more intimitate atmosphere, you can also have dinners at restaurants with smaller stages for dance performances.Book
regular events in Siem Reap near Angkor
Recommendations:

Quick inquiry
- Airtickets domestic and worldwide
- Bus and Boat Tickets
- Visa arrangements
- Hotel or Guesthouse reservation
- Transportation rentals
- Private or shared tours in Angkor
- Guided tours in many languages
- Holiday packages
- Tailor-made roundtours
Our Specials:
- Forgotten temples off the beaten track
- Temple visits in chronological historical order

Unique Asia Travel and Tours
is an independent travel agency and tour operator registered in Cambodia, based in Siem Reap near Angkor.
We are not part of an international holding, we help to develop local tourist business.
Our company is run by locals and 100% owned by Cambodians.
For details, please check our page
Our company